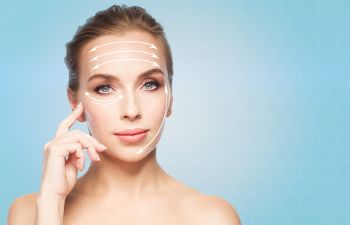 Both male and female patients can opt for a natural uplift facelift from Dr. Mark Jones at his Atlanta, GA offices. Rather than thinking of this treatment as a predefined procedure, patients should expect to benefit from the extensive skills that Dr. Jones brings to the table.
Facial anatomy is unique in all cases, which means that cosmetic surgeries need to account for the individual balance and symmetry of your features. Although an NU facelift offers distinct advantages over other surgery approaches, the overall procedure will differ from one patient to the next.
NU Facelift Benefits
The most noticeable benefit of the NU facelift is a reduction of noticeable scarring. This is achieved with a single small incision, which is located in front of the ear curves. Similarly, Dr. Jones avoids scarring to the neck by using the same incision and liposuction to remove unwanted fat from the neck area.
With an NU facelift, patients can complete treatment in-office under local anesthetic or at the hospital under general anesthetic. This allows for greater flexibility and convenience for the patient. Furthermore, Dr. Jones has honed his skills to the point where patients can expect a more pleasant and easy-to-manage recovery period.
Facial Sculpting with NU Facelift
Besides the unique benefits that an NU facelift offers, Dr. Jones employs his vast experience as a double board-certified plastic surgeon to ensure excellence in aesthetic results. Desired outcomes are achieved by sculpting the features to reflect the uniqueness of the patient's facial anatomy. All treatment plans are subject to a comprehensive consultation, allowing each patient to guide the results of an NU facelift.
If you would like to know more about NU facelift applications, book an appointment with Dr. Mark Jones at his offices in Atlanta, Georgia, today.
Posted on behalf of Dr. Mark Mitchell Jones, Atlanta Plastic Surgery Specialists, P.C.