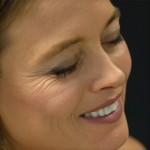 As the "windows to the soul," the eyes tell a great deal about a person – including one's age. More than telling a person's age, they can also give a false impression on one's age; and no one wants to look older than s/he actually is. Blepharoplasty of the lower eyelid is a cosmetic surgical procedure that helps to improve the appearance of sagging, tired eyes. This is a specialized procedure done to address the bulging bags of loose skin and sagging tissues which should support the lower eye area. Dr. Mark Mitchell Jones of Atlanta Plastic Surgery Specialists has the skill and expertise of an experienced double board certified plastic surgeon to achieve natural looking results with facial rejuvenation procedures. Blepharoplasty of the lower eyelid allows patients to restore their youthfulness by taking years off the face.
The skin of the eyes is some of the most delicate skin on the entire body. With age, the skin and tissues beneath the skin lose their elasticity. The delicate skin underneath the eyes often loses its resilience sooner than the other skin of the body. This skin begins to sag, causing wrinkles and a worn down appearance. However, in some people this loose skin begins to harbor fat deposits that settle beneath the eyes. These fatty pockets can also accumulate fluids, and both fatty tissues and fluid can cause the sagging pockets beneath the eyes to bulge and cause an unattractive appearance. For those who suffer from bulging, sagging lower eyelids, blepharoplasty is a successful solution for removing this unwanted feature.
Dr. Mark Mitchell Jones removes excess tissue and muscle suspension from the lower eyelids and reforms the eyes' natural shape. The blepharoplasty of the lower eyelid is done to minimize any scarring and visual proof that you have had cosmetic work done. Fat pockets are able to be removed from inside the bulging pockets beneath the eye and the skin is able to be tightened in order to remove the sagging appearance of tired, aging eyes.
If you are interested in learning more about blepharoplasty of the lower eyelid, contact Atlanta Plastic Surgery Specialists today. You can schedule a consultation appointment with Dr. Jones to discuss the specific options for achieving your personal goals. Dr. Mark Mitchell Jones is a renowned plastic surgeon who is dedicated to providing extraordinary results that look natural and elegant.
Posted on behalf of Dr. Mark Mitchell Jones, Atlanta Plastic Surgery Specialists, P.C.
Circle Us on Google+