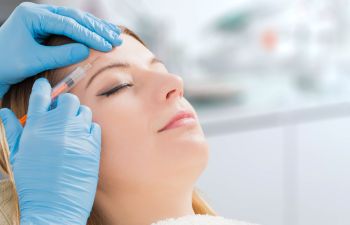 To date, well over 6 million people across the United States have had Botox® treatments. This makes Botox by far the most popular minimally invasive cosmetic treatment available. You may be surprised to discover just who among your Atlanta circle of friends and acquaintances enjoy regular Botox treatments.
Erase the Ravages of Time with Botox
Botox is made from a neurotoxin called botulinum. When injected into certain muscles in minute amounts, it relaxes the muscles that cause wrinkles and lines to form and become etched into your face, neck and hands. As these muscles relax, wrinkles smooth out and your skin takes on a younger, vibrant look.
Botox injections are not painful and after treatment, you can return to work or other activities immediately. The results of your treatments will become visible within 48 hours and last approximately 6-8 months. Regularly scheduled Botox treatments can extend your youth for a long time.
Botox injections can erase crow's feet, marionette lines, frown lines, forehead wrinkles, wrinkles on hands and more. Wouldn't you like to look in the mirror and see a younger you? Even more, wouldn't you like to show off a younger you to others? Botox injections from Atlanta Plastic Surgery Specialists, PC, may be the answer.
Skilled, Experienced Botox Treatments in Atlanta
Dr. Mark Mitchell Jones is one of the Atlanta pioneers who first began offering Botox treatments. From that day to this, he has helped many patients restore a look of youth and vitality to their appearance with precise, effective Botox Injections. Dr. Jones is a double board certified plastic and reconstructive surgeon with the training and experience needed to expertly administer Botox injections. You can be confident that your Botox treatments with Dr. Jones will result in a natural-looking, refreshed and more youthful appearance.
Are you ready to explore what Botox treatments can do for you? Contact our Atlanta office to schedule your Botox consultation with Dr. Mark Mitchell Jones today.
Posted on behalf of Dr. Mark Mitchell Jones, Atlanta Plastic Surgery Specialists, P.C.