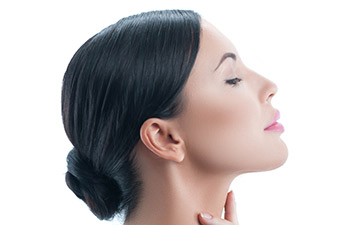 Most people have some characteristic on their face that they would change if they could. Perhaps one eye droops more than the other, perhaps your nose has a "hook" that you would love to remove, or perhaps your profile is less than you would consider ideal. Chin implants are a plastic surgery treatment that is done to reshape or enhance the size of the chin.
Because bone structure is one of the most powerful elements of attractiveness in the face, the protrusion of the chin can have a significant impact on a person's appearance.
The chin is especially important to the appearance of the face as it is the center of the jaw. If the extension of the chin is inadequate, the mid-face and nose will appear especially large. A weak chin can also make the neck appear fleshy because it is not defined by a strong jaw line. Aging often worsens a weak chin, resulting in a double chin or "turkey gobbler" because the laxity of the muscle sling that holds up the tissue under the chin does not have much to hold on to for support.
Chin implants are used to properly align and offer the desired proportion to the face that is missing. This procedure can help women achieve a desirable fine-shaped jaw line and help men achieve a highly sought after "Superman" jawline. A successful chin implant procedure results in a chin that is in better proportion to the entire face, thus enhancing one's entire facial appearance.
Dr. Mark Mitchell Jones of Atlanta Plastic Surgery Specialists offers his expertise and experience to patients who wish to enhance the appearance of their chin. His understanding of the facial features and facial bone structure allows him an artistic eye for creating a natural looking and beautiful outcome.
If you are interested in having a chin implant done or wish to receive more information, please contact Atlanta Plastic Surgery Specialists. Dr. Jones will discuss with you your desired results and will customize a surgical approach that is tailored to your specific needs and desires.
Posted on behalf of Dr. Mark Mitchell Jones, Atlanta Plastic Surgery Specialists, P.C.
Circle Us on Google+