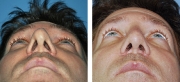 The nasal septum is the wall between the nostrils that separates the two nasal passages. It is made up of thin bone and cartilage, and it supports the nose and directs airflow. A deviated septum is when the cartilage or bone is not straight and impacts the way a person breathes. It is often the main culprit for those who snore and suffer from sleep apnea. Surgery to straighten the septum is called septoplasty. Many people have heard of a deviated septum because of the popularity of celebrities blaming this "cause" as the reason for a nose job. While it is hard to know just who in Hollywood is every honest about work they have or haven't had done, correcting a deviated septum is a relatively easy procedure.
Dr. Mark Mitchell Jones leads the team at Atlanta Plastic Surgery Specialists and has first class education and training in facial plastic surgery. As a double board certified surgeon, Dr. Jones is uniquely skilled in enhancing both the aesthetics of the face and the functionality of certain features. Rhinoplasty can be done to correct a deviated septum, but is generally referred to as a septoplasty when specifically done to modify the septum itself. This surgery is specifically designed to correct airway obstructions to help patients breathe better and sleep more soundly.
If you have been told that you have a deviated septum, or if you are interested in altering the appearance of your nose, please contact the expert surgeon at Atlanta Plastic Surgery Specialists to schedule an appointment for consultation. With over 20 years of experience and the qualifications of an esteemed surgeon, Dr. Mark Mitchell Jones offers the most precise surgical results for all of his patients.
Posted on behalf of Dr. Mark Mitchell Jones, Atlanta Plastic Surgery Specialists, P.C.
Circle Us on Google+