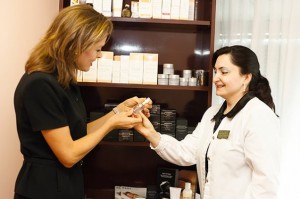 Today, most Americans use the Facetime application on their iPhone or similar videoconferencing application on their phone, laptop or other electronic device daily. Video chats are now being used for online dating, business meetings, job interviews and more. This prompted a plastic surgeon in Virginia to name a new plastic surgery procedure: the Facetime Facelift.
The purpose of the procedure is to help people look younger when they appear on Skype, Facetime and other video chat services.
People usually gaze down in their video chat devices, which is just about the least flattering angle of their face. Gazing down foreshortens the face and accentuates any fat that is presence under the chin. The Facetime Facelift is used to treat sagging in the neck and lower part of the face as well as get rid of unwanted fat underneath the chin.
While some think that this trend is excessive, it does bring up a good point: technology is part of our daily lives in this new digital era and cameras are a big part of that technology. In this day and age, it is hard to get away from the cameras.
If you are unhappy with the way you look on Facetime or Skype or in everyday life, there are a variety of surgical and nonsurgical options that can be used to help you regain your confidence and achieve a more refreshed, youthful appearance. Talk to a board-certified, experienced plastic surgeon in your area today about your facial cosmetic surgery options.
Posted on behalf of Dr. Mark Mitchell Jones, Atlanta Plastic Surgery Specialists, P.C.
Circle Us on Google+