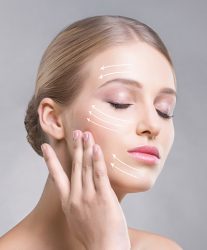 Your face is a very personal asset. It is probably your most recognizable feature, and what comes to mind when people think about you. When any type of injury, trauma, or damage occurs to the face, it can be very traumatizing and emotional. Most people assume that their only option for treatment for a facial laceration is to go immediately to the emergency room. They visit the ER and are treated by a doctor who sees the patient with an emergency and does his/her part to treat the situation. For the most part, emergency room doctors are not overly concerned with scaring. It is not that they wish for their patient to have a scar, but avoiding scaring is not their expertise. They simply see an emergency and treat it with the best medical services available to them.
Dr. Mark Mitchell Jones of Atlanta Plastic Surgery Specialists provides exceptional treatment for patients who have suffered scaring due to facial laceration repair. Dr. Jones is proud to offer expert cosmetic surgery designed to eliminate or hide scars caused by accidents and injuries.
Dr. Mark Mitchell Jones is a highly respected plastic surgeon who has received training all over the world. From Emory to Oxford, and from Johns Hopkins to Stanford, Dr. Jones is a plastic surgeon with skills and a gentle spirit. Many patients are pleasantly surprised to learn that most trauma-induced lacerations and deformities can be hidden with a variety of surgical and non-surgical procedures that are covered by insurance. It is well received that a person's face is a personal feature, yet also one that must be presented to the world.
Dr. Jones is highly experienced in using grafts or flaps of skin from other parts of the body to cover up an unsightly scar. Z-Plasty is a procedure that involves several small zigzagging incisions that hide a scar along skin tension lines. This procedure is typically used for larger scars.
Your face is unlike any other. You have specific features that make you, you. If a facial laceration has left you with an unsightly or embarrassing scar that you wish to erase, please contact Atlanta Plastic Surgery Specialists today. Dr. Mark Mitchell Jones has a skill set unlike any other cosmetic surgeon. He and his dedicated team will help you regain confidence in order to put your best face forward.
Posted on behalf of Dr. Mark Mitchell Jones, Atlanta Plastic Surgery Specialists, P.C.
Circle Us on Google+