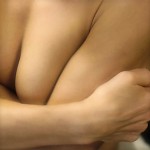 For many women, the choice to undergo breast augmentation is not a decision that they make lightly. Perhaps you have always had small breasts and felt self-conscious about them and are now ready to move forward, yet you are worried what other people may think. Or perhaps you are a mother of three and you have gladly chosen to breastfeed your babies, but now your breasts are limp and you feel uncomfortable with their appearance. What ever the reasons behind your decision are, there are a few other things to consider.
Saline vs. Silicone Implants – Gone are the days when silicone implants made headline news because of the worry of rupture. Today's silicone implants have been tested for safety and value. Silicone implants make up the majority of breast implants today because of their more natural feel, lower deflation rate, and less rippling. However, silicone implants are more expensive than the alternative. Saline implants are a great alternative to silicone implants, and they require a smaller incision.
Surgical Incision – Most people do not want to have noticeable scarring after their breast augmentation surgery. There are three standard incision approaches: inframmamry (under the breast fold), peri-areolar (around the nipple), or transaxillary (under the armpit). Your age and whether or not you are hoping to have children in the future will help to determine which type of incision is preferred for your surgery.
Size – This is by far the most worried over decision among women. Most patients want their breast augmentation to be "worth it," yet they do not want to end up looking like Dolly Parton. At your consultation appointment, measurements will be taken and you will try on different sizers to get a good idea of "how big" you want to look. The size of your body frame must also be taken into account – a 5-foot, 100-pound woman would not ideally have the same size implants as a 5' 9", 160-pound woman. You will be an active participant in your size selection, and we will help to educate you on the benefits of size.
Selection of Surgeon – This is by far the most important consideration. Your surgeon must be a trusted doctor with an outstanding reputation.
Dr. Mark Mitchell Jones of Atlanta Plastic Surgery Specialists is a trusted and highly skilled plastic surgeon here in Atlanta, Georgia. He has used his experience and expertise to develop an outstanding technique of breast augmentation that is admired worldwide. Contact our practice today to schedule a consultation to discuss the details of breast augmentation surgery.
Posted on behalf of Dr. Mark Mitchell Jones, Atlanta Plastic Surgery Specialists, P.C.
Circle Us on Google+