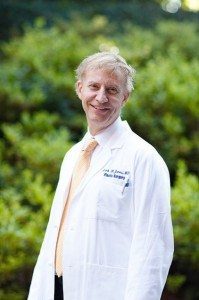 Few things show age like lines on the face. Lines on the forehead can cause a person to look older than her actual age, and the eyebrows can seem heavy and drooping down around the eyes. A forehead lift is a plastic surgery procedure used to reverse the effects of gravity and tighten the skin and soft tissues of the forehead to restore a youthful contour to the forehead, eyebrows, and eyelids. Dr. Mark Mitchell Jones is a double board certified surgeon who is uniquely qualified to perform forehead lift surgery. Located in Atlanta, Dr. Mark Mitchell Jones has helped countless patients in the South East restore the look of youth to their faces.
Smooth skin is associated with youthfulness, yet as we age we lose the collagen in our skin that allows the smoothness to be sustained. A forehead lift can reverse the signs of aging in the upper face and correct the following:
Deep horizontal creases across the forehead
Frown lines or furrows between the eyebrows or across the top of the nose
Sagging or low eyebrows that create a tired, sad, or grumpy appearance
Excess skin or fatty tissue that hangs over the eyes
Most people report that once they have recovered from surgery they have a more alert and youthful appearance. They are also often told that they look happier, friendlier, and more approachable. Who doesn't want that?!?
If you are unhappy or self-conscious with the appearance of your forehead and how it affects the appearance of your entire face, contact Atlanta Plastic Surgery Specialists today. Dr. Mark Mitchell Jones has the experience and expertise you need to recreate your face in order to bring back your youthful glow.
Posted on behalf of Dr. Mark Mitchell Jones, Atlanta Plastic Surgery Specialists, P.C.
Circle Us on Google+