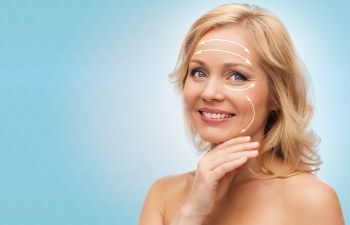 Since turning back the clock to a younger time is not possible, what is possible is fighting the signs of aging. Facelift surgery is one way to restore a more youthful appearance. The loss of facial contours in the face can be caused by thinning of the skin, loss of facial fat, gravity, sun damage, smoking, heredity, and stress. According to the American Society of Plastic Surgeons, a facelift can improve visible signs of aging in the face and neck such as:
Skin Relaxation of the face causing sagging
Fold lines deepening between the nose and corner of the mouth
Fat that has fallen or disappeared
Jowls developing in the cheeks and jaw
Excess fat and loose skin of the neck that can appear as a double chin
Dr. Mark Mitchell Jones of Atlanta Plastic Surgery Specialists, P.C. has developed his approach to a facelift called the Natural Uplift or NU facelift. He merged the most advanced and safest techniques from the numerous facelift approaches and customized his own. The NU facelift is a unique approach to facelift surgery with the least amount of complications such as bruising and swelling.
Benefits of the NU (Natural Uplift) Facelift
Less visible scarring
Greater flexibility
Advanced safety methods
Better comfortability post-surgery
Less maintenance
More natural-looking result
After the facelift surgery, Dr. Jones will dress the head with a light bandage and elastic cloth over the sides of the face for approximately 5-7 days. This will help with the healing and reduce any post-surgery risk factors. Dr. Jones uses his No-Pain-No-Drain technique to avoid using post-surgery drain devices. Dr. Jones recommends avoiding strenuous activities for 3 weeks.
Atlanta Facelift Expert
If you are interested in learning more about Dr. Jones NU facelift, contact Atlanta Plastic Surgery Specialists, P.C. today to schedule an appointment.
Posted on behalf of Dr. Mark Mitchell Jones, Atlanta Plastic Surgery Specialists, P.C.