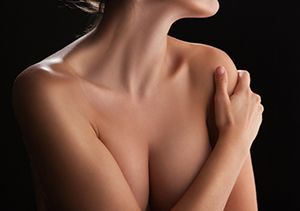 Women appreciate the results of breasts implants, but they typically do not favor the scars that come with them. Dr. Mark Mitchell Jones of Atlanta Plastic Surgery Specialists developed the innovative and advanced Invisible Scar Technique (IST) for breast augmentation to allow for women who desire to gain larger breasts without unwanted scarring. The ability to achieve this is in the way that he performs breast augmentation surgery. With the IST, the scar heals inconspicuously and is even difficult for Dr. Jones to detect 6-12 months post surgery!
Invisible Scar Technique involves Dr. Jones making a puncture-like short incision at the junction of the areola near the vertical axis of the breast. This allows for "minimal transverse dissection of the breast tissues to reach towards the bloodless retro pectoral muscle plane." With many plastic surgeons' approach to breast implants, they cut the breast muscle in order to place the implant behind the muscle. Dr. Jones does not cut into the muscle or fascia (the thin sheath of fibrous tissue that encloses the breast muscle). Dr. Jones developed a special technique to temporarily relax the breast muscle fibers such that he can delicately spread them apart parallel to their axis. In this separation, he can slide the implant through the momentary opening, place the implant behind the muscle, all while leaving the muscle attachments to the ribs untouched or disconnected.
The Invisible Scar Technique supports the breast and the increased weight of the implant to prevent future drooping and "bottoming out". In effect, Dr. Jones has created a semi-permanent natural breast bra. IST allows patients more freedom from bras so that they can wear a less supportive bra, a bikini top, or even go braless for a natural look. With IST, the breasts hold their lift much longer than the traditional method of breast augmentation where the breast muscles and tissues are cut.
If you are interested in breast augmentation, it is in your benefit to schedule a consultation with Dr. Mark Mitchell Jones. Dr. Jones has patients fly in from all over the country who are interested in his specialized approach to plastic surgery and his renowned accomplishments. Dr. Jones personalizes every surgery to his patient's needs to accomplish an individually beautiful result. Contact Atlanta Plastic Surgery Specialists today.
Posted on behalf of Dr. Mark Mitchell Jones, Atlanta Plastic Surgery Specialists, P.C.
Circle Us on Google+