Is it Time to Consider a Mommy Makeover After a Recent Pregnancy?
16th November 2021
Filed under: Liposuction, Mommy Makeover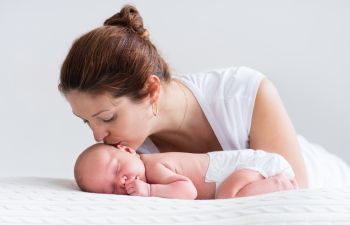 In the past year, a running joke on the internet claims that most people got a puppy, got pregnant or attempted a home haircut. If you fall into the second category, a mommy makeover may help you get your shape back. This contouring treatment is ideal for removing unwanted fat and sculpting bodily features for a better-looking silhouette.
The main areas of focus in a mommy makeover are the breasts, the abdomen, the flanks, the hips, the lower back, the buttocks and the thighs. These features are often impacted by the changes that happen during pregnancy. New mothers may struggle to diet properly or exercise, which makes losing weight seem like an impossible uphill battle.
The Abdomen & Pregnancy
Due to the abdomen bulging as a baby grows, there are several issues that women face with this area post-pregnancy. The muscles often weaken, which causes separation, which also contributes to stretch marks. Purplish-red blemishes around the abdomen will eventually turn white, leaving the body looking scarred.
Breast Changes
You likely have noticed some degree of change in the size and shape of your breasts. This adjustment may go on after your child is born. If you decided to breastfeed your newborn, it is not unusual for the breasts to lose volume and begin to sag. A mommy makeover is designed to correct these issues after a pregnancy.
Weight Loss Challenges
Very few mothers are lucky enough to have the time to exercise effectively. There are also dietary challenges when trying to lose weight as a new mother. You may manage to shed pounds in some areas while others remain unaffected by your efforts. This is quite normal for women who have recently given birth.
No matter what challenges you face, a mommy makeover can probably offer solutions. Dr. Mark Mitchell Jones uses a combination of techniques and procedures based on the needs of each mother.
If you are ready to transform your post-pregnancy body, call our offices today to book a consultation. We look forward to helping you get your figure back with a mommy makeover in Atlanta.
Posted on behalf of Dr. Mark Mitchell Jones, Atlanta Plastic Surgery Specialists, P.C.