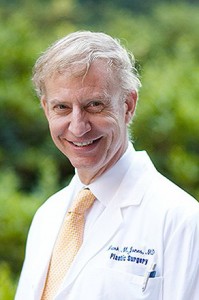 Lips are a visible, yet very seductive aspect of the body. While they may perform common duties such as smiling, speaking, and eating, they are also involved in intimate situations such as kissing. Full, plump lips have been considered a sign of youth, health, beauty, and seduction for many years. Full lips have been portrayed on every cover of any beauty magazine as one of the highest standards of beauty. Unfortunately, not everyone is born with naturally full lips, and those who are often find that they begin to thin out as people get older. Whether patients are looking to gain the full lips they have never had or are seeking to enhance lips that have begun to thin due to the natural aging process, there are ways to obtain full, beautiful lips.

Dr. Mark Mitchell Jones of Atlanta Plastic Surgery Specialists is Atlanta's trusted lip augmentation specialist. He offers several non-surgical treatments to give patients an instant result to add shape and volume to their lips. Injections of derma fillers can immediately add volume with hyaluronic acid, which is a naturally occurring chemical in the body. These fillers gradually absorb into the body with no unwanted side effects. Derma fillers can be repeated as often as necessary to maintain the look of fuller lips. Fat transfers can also be performed by taking a patient's own fat from a part of the body and transferring it to the lips. Dr. Mark Mitchell Jones has the expertise to determine the best type of injection for restoring and improving the appearance of full, sexy lips.
Atlanta Plastic Surgery Specialists is the name to trust for the most excellent lip augmentation procedures. A simple lip augmentation can bring dramatic results to the face, and with his conservative treatment Dr. Mark Mitchell Jones provides beautiful, natural looking results. Contact Atlanta Plastic Surgery Specialists today to schedule a consultation. We look forward to helping you look and feel your best.
Posted on behalf of Dr. Mark Mitchell Jones, Atlanta Plastic Surgery Specialists, P.C.
Circle Us on Google+