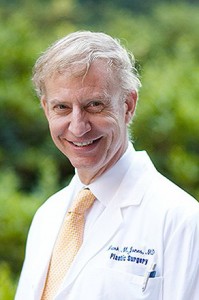 Many men are self-conscious about the appearance of their eyes and the area around their eyes. As they grow older, the skin around men's eyes tends to sag and droop more than it does for women. This sagging and drooping often gives men a tired or grumpy or angry appearance, when in fact many men are none of these. Eyelid surgery, also known as Blepharoplasty, is a cosmetic procedure done to improve the appearance of the eyes by removing fatty deposits from the lower eyelids and tightening the skin on the upper eyelids. This procedure can give men dramatic results that can make them look as young as they feel.
Male eyelid surgery is one of the most popular plastic surgery procedures for men because of the dramatic improvements that one simple procedure can have on the entire face. Eyelid surgery can reverse the signs of aging around the eyes and give men a much more approachable and welcoming appearance. We have all seen the "grumpy old man" look – and many men find that they begin to take on this appearance as early as 40 years old. Eyelid surgery is a great choice for men, and although many of the same principles apply, there are some differences between male and female eyelid surgery. The muscles in a man's skin tend to be heavier than a woman's, and the male skin is also thicker. The combination of these two things causes many men to have more sagging and drooping of the eyes than women. Dr. Mark Mitchell Jones of Atlanta Plastic Surgery Specialists understands these differences, and he has the expertise to provide the desired results for male eyelid surgery patients.
If you are considering male eyelid surgery, please contact Atlanta Plastic Surgery Specialists. Dr. Mark Mitchell Jones has over 20 years of experience as a double board certified surgeon, and he offers his expertise and skill to all of his patients. Eyelid surgery can be combined with other facial plastic surgeries for dramatic results, and your options can be discussed during consultation. Dr. Mark Mitchell Jones is here to help you regain your self-confidence and bring life back to your facial appearance. Contact our practice today.
Posted on behalf of Dr. Mark Mitchell Jones, Atlanta Plastic Surgery Specialists, P.C.
Circle Us on Google+