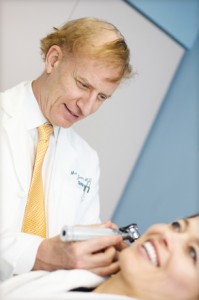 Micro-derma needling is a skin rejuvenation treatment that can be used to soften and/or remove existing lines and wrinkles from the face. It can also be used to smooth or soften the appearance of scarring and scar tissue caused by accidents, acne or bites. This non-invasive treatment works on furrow lines, marianet lines, labial folds, lip lines and crows feet and is offered by Juventus Medical Spa. Micro-derma needling is available at many plastic and reconstructive surgery practices throughout the United States.
Micro-derma needling requires the incision of a fine needle with radio frequency currents into the wrinkle line or scar on the face. This causes constriction of elastic fiber bundles and collagen cells, gathering them together to fill in the wrinkle or crevices of a scar.
In this way, micro-needling uses an individual's own collagen and elastic fibers bundles to regenerate the skin as opposed to using fillers or muscle relaxers such as Botox.
Juvapen offered by Juventus is a micro-derma needling system that uses Micro Fractional Collagen Stimulation Technology to rejuvenate the skin. This system was approved by the FDA and has been available on the market for more than two years. With this system, you can get results comparable to the results obtained with a Fractional laser, without the severity of the burn. In addition to reducing fine lines, wrinkles and scars, Juvapen can also be used to diminish under eye puffiness and to diminish pore size as well as skin discoloration on the face, neck and chest. Micro-needling utilizes micro needles to create invisible micro perforations in the skin's epidermis and top layer of the dermis. The skin reacts to this injury by producing collagen and elastin to repair the micro perforations. Best results occur when the Juvapen treatment is repeated over time.
If you are looking for a non-invasive method to help you achieve younger, fresher looking skin, you may be a good candidate for the Juvapen skin rejuvenation treatment. Talk to your plastic surgeon today to see if the Juvapen system is right for you.
Posted on behalf of Dr. Mark Mitchell Jones, Atlanta Plastic Surgery Specialists, P.C.
Circle Us on Google+