Microdermabrasion: Putting Your Best Face Forward
8th February 2018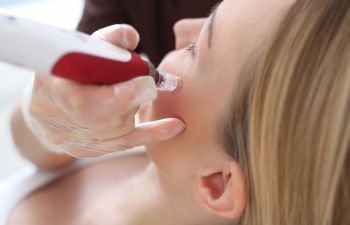 Given its extraordinary convenience and effectiveness, Microdermabrasion remains one of the three most popular dermatological and cosmetic treatments for improving the tone, texture and overall appearance of skin. DocShop reports that this "lunchtime facial" is non-surgical and virtually pain-free, making it easy for busy patients on the go. What's more is that it works beneath the surface, promoting greater circulation and collagen production. For many, Microdermabrasion allows them to put their best face forward.
How does Microdermabrasion work? To begin, it sloughs dead and dull superficial skin cells, which rejuvenates the skin. Additionally, it revitalizes skin, helps enlarged and clogged pores, and minimizes fine lines, acne scars and uneven pigmentation and texture.
Though Microdermabrasion is non-invasive and safe, however, it is not without risks. Ultimately, this comes down to whom is performing the treatment. While an aesthetician at a salon or spa may provide a Microdermabrasion treatment, risks are minimal when a dermatologist or plastic surgeon provides treatment. Some important considerations are proper use of the microdermabrasion applicator and machine. Improper use of the wand and machine may result in the patient's skin being damaged or scarred. In turn, if the microdermabrasion crystals enter the patient's eyes, they can cause irritation. It's also important to remember that a dermatologist and/or plastic surgeon is able to detect any skin conditions that might affect the success of the treatment.
While complications associated with Microdermabrasion are rare, it is simply too risky to take chances when it comes to a prominent feature such as your face.
Exquisite, Elegant Results
As your trusted source for expert facial plastic surgery in Atlanta, Dr. Mark Mitchell Jones and Atlanta Plastic Surgery Specialists offer an expansive menu of procedures and treatments for the face, including Microdermabrasion. Known for producing exquisite, elegant results, Dr. Jones is uniquely skilled in improving and restoring the aesthetic features of the face and skin. With over 20 years of experience and superior reviews, patients throughout the city look to Dr. Jones to help them obtain the results they need and deserve.
To schedule an appointment with Dr. Jones, contact his Atlanta Facial Plastic Surgery Practice today.
Posted on behalf of Dr. Mark Mitchell Jones, Atlanta Plastic Surgery Specialists, P.C.
Circle Us on Google+