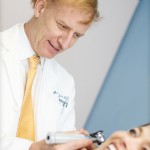 Microdermabrasion treatment is used on the skin to refresh the skin's appearance. This treatment is a minimally abrasive technique that gently sands your skin, removing the most top layer of skin where impurities and sun damage are most visible. Microdermabrasion treatment is described as a skin refreshing technique that helps repair facial skin that has received damage from the sun's harmful rays.
This treatment also allows the skin to more fully absorb creams and other treatments that are applied to the skin because the outer, damaged layer is removed. At Atlanta Plastic Surgery Specialists, we are proud to offer this skin treatment to patients who want to achieve a more even skin tone and a refreshed, youthful appearance.
Microdermabrasion is a simple, non-painful technique using a hand piece that sprays tiny crystals across the face and a vacuum that simultaneously suctions away the dead, outer layer of skin. The tiny crystals polish the skin by revealing a new layer of skin underneath the damaged outer layer. This procedure will immediately give the skin a fresh, healthy-looking glow because of the skin renewal that is achieved. With the outer layer of damaged skin removed, the other layers of skin on the face will be stimulated to produce collagen – the skin's ultimate warrior for a more youthful appearance.
Microdermabrasion treatments have been dubbed as a "lunch hour procedure," because they are quick treatments that require no down time. It is recommended that, in order to achieve maximum results – such as the reduction or removal of sun spots or unwanted pigmentation – more than one treatment is generally needed. Microdermabrasion is actually one of the most popular treatments for patients to receive on a regular basis in order to continually remove the outer, damaged layer of skin.
Atlanta Plastic Surgery Specialists is proud to provide microdermabrasion treatments as a part of our non-surgical procedures to enhance the appearance of the facial skin. Contact us today to schedule your appointment.
Posted on behalf of Dr. Mark Mitchell Jones, Atlanta Plastic Surgery Specialists, P.C.
Circle Us on Google+