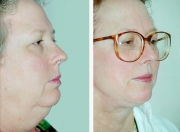 As we age, our skin changes. Youthful skin has a great deal of natural collagen and elasticity, making it firm and holding it tight. With age, skin loses its elasticity and collagen production eventually comes to a halt, leaving wrinkles and sagging skin. No area of the body is immune to this change, and often the area above the shoulders shows the first signs of aging. Neck lift surgery is a cosmetic procedure done to tighten the skin of the lower jaw and the neck in order to add definition to the jaw line and reduce sagging skin of the neck.
Neck lift surgery is often done in combination with other facial plastic surgical procedures such as a facelift and/or neck liposuction. The entire area of the chin, jaw line, and neck are connected by many of the same muscles resulting in astonishing results when certain procedures are combined.
Dr. Mark Mitchell Jones of Atlanta Plastic Surgery Specialists is an excellent provider of neck lift surgery, neck lift liposuction, and double chin liposuction. All of these procedures can take years off of a person's appearance. The results are a tighter, more youthful appearance that is attractive and confident. With Dr. Jones' specialized techniques, he is able to hide scars in the hair line so that people will wonder what you've had done, but will never be able to tell!
Neck lift surgery can tighten the muscles and skin; combined with a neck liposuction procedure it can reduce fat in the neck and create a defined and attractive appearance. Atlanta Plastic Surgery Specialists is a proven leader in neck life and neck liposuction surgeries. Please contact our Atlanta neck lift surgeon today to schedule a consultation. We look forward to helping you achieve your goals and put your best face forward.
Posted on behalf of Dr. Mark Mitchell Jones, Atlanta Plastic Surgery Specialists, P.C.
Circle Us on Google+