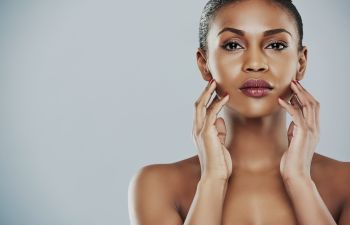 While there are a wide range of cosmetic and plastic surgery options, many individuals are leaning towards minimally invasive treatments that produce natural looking results with no downtime. At Atlanta Plastic Surgery Specialists, P.C., Dr. Mark Mitchell Jones offers quick cosmetic procedures in-office, with respect to your time. Treatments are performed with gentle numbing techniques brought over from Oxford, England, as Dr. Jones spent ample time there perfecting his training. Consider the following 5 types of quick office procedures offered by Dr. Jones:
Quick Office Facelift (NU Facelift)
Using a modified Belgian technique, Dr. Jones performs a naturally uplifting or NU facelift as a quick in-office procedure. He removes excess skin and fat while tightening the underlying muscles of the face that lead to aging. Best of all, the in-office facelift is much less invasive than a surgical facelift, and requires shorter scars.
Quick Office Eyelid Surgery
When the eyelids begin to fold over or droop with aging, the eyes appear dull and tired. Fortunately, excess or loose skin and muscle can be easily removed in one appointment, producing a more refreshed, revitalized look. In some instances, Dr. Jones' advanced skill has allowed him to perform the procedure with no external incision or scarring!
Quick Office Browlift
Aside from the eyes, brows can become deformed and misshaped with age. Thus, for mild or moderate signs of aging in the brow region, Dr. Jones is able to lift the brow to its original position in one quick office visit.
Quick Office Liposuction
When individuals have small pockets of fat in the face, knees, inner thighs or other areas, Dr. Jones is able to effectively remove them with liposuction under mild sedation and local anesthetics. Dr. Jones' skills in liposuction are superior, as he trained with the inventor of the procedure in Paris.
Quick Office Breast Lift or Mastopexy
Remarkably, patients with certain types of sagging, droopy breasts can receive quick office breast lift or mastopexy under local anesthesia only (though a calming agent can be given, if needed).
When it comes to in-office cosmetic procedures performed by an elite plastic surgeon like Dr. Jones, patients benefit from superior results using the most advanced skills available in the shortest amount of time. To inquire about any of the above-mentioned procedures, or to speak to Dr. Jones regarding a different cosmetic treatment, call Atlanta Plastic Surgery Specialists, P.C. today.
Posted on behalf of Dr. Mark Mitchell Jones, Atlanta Plastic Surgery Specialists, P.C.