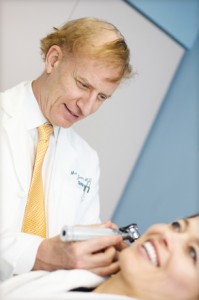 Scars come in a variety of shapes and sizes, and there are different stories behind each scar. While some people choose to keep their scars as "battle wounds" or proof of adventure, many people have painful memories that accompany their scars or are extremely self conscious of them. Scars are a personal matter, and the decision to have scar revision surgery done is a very personal choice. Plastic surgery can improve, and even erase, the appearance of a scar. At Atlanta Plastic Surgery Specialists, Dr. Mark Mitchell Jones is a highly trained and experienced, double board certified surgeon that is uniquely qualified to perform scar revision surgical and nonsurgical procedures.
Facial scars are the most common scars that people choose to have revision procedures done on. Because of its location, a facial scar is typically considered to be a cosmetic problem that a plastic surgeon is entrusted to repair. Different types of scars respond differently to plastic surgery techniques, therefore the goal of an individual scar revision procedure will depend on each patient. Dr. Mark Mitchell Jones has the unique ability to disguise a scar, relocate it, or minimize the scar's prominence. His examination of the scar will allow him to decide upon the proper treatment and to inform each individual of realistic outcomes that can be expected from scar revision.
Dr. Mark Mitchell Jones understands that it takes a compassionate and personalized approach to every scar revision procedure. Because each patient has his or her own attitude toward a scar, and because the history behind each scar is personal, Dr. Jones never uses a "one size fits all" approach to scar revision. If you have a scar that you wish to minimize, please contact the Scar Revision Experts at Atlanta Plastic Surgery Specialists today.
Posted on behalf of Dr. Mark Mitchell Jones, Atlanta Plastic Surgery Specialists, P.C.
Circle Us on Google+