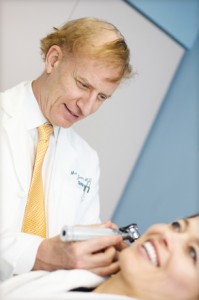 A skin tag is a soft, small growth of skin that hangs off of the body. It is connected to the body by a "stalk" and typically occurs in sites where clothing rubs against the skin or where there is friction from skin-to-skin contact – such as the neck, underarms, groin, upper chest, and upper eyelids. These benign growths cause no medical concern, but they can be extremely bothersome because of their location. Choosing to have a skin tag removed is a personal decision, and it is important that people trust a skilled hand from a doctor who has the knowledge and skill for proper removal with minimal scarring.
While many people choose to have a dermatologist do their skin tag removal, it is suggested that you seek removal by a plastic surgeon, especially if the skin tag is in a prominent or noticeable area. Dr. Mark Mitchell Jones of Atlanta Plastic Surgery Specialists is a double board certified plastic and reconstructive surgeon who is highly qualified to remove skin tags. This simple, outpatient procedure is done in the office using a local anesthetic. With Dr. Jones' skilled hands and precision, the results have minimal discomfort, little to no scarring or down time.
If you have a skin tag that is bothered by the collars of your shirt, wearing necklaces, undergarments, or a skin tag that is in another problematic area, please contact Atlanta Plastic Surgery Specialists today. There is no reason to allow a skin tag to cause you discomfort, and if you are self-conscious about your skin tag, there is no better time than now to have it removed.
Dr. Mark Mitchell Jones uses the latest and most innovative techniques for skin tag removal. During your consultation, Dr. Jones will take the time to thoroughly inspect your skin tag and discuss your hopes for the outcome and any questions or concerns you may have. Call today to look and feel your best.
Posted on behalf of Dr. Mark Mitchell Jones, Atlanta Plastic Surgery Specialists, P.C.
Circle Us on Google+