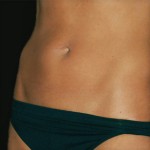 It is unfortunate, but age is rarely good to any of us. Our bodies grow older with every passing day, and there are signs of the time passing on every part of our bodies. Perhaps for women, there is no more "tell-tale" sign of her age and what her body has been through than that of her abdomen. Women who have had the wonderful opportunity to carry a child, or multiple children, are left with visual reminders on their abdomens. While mothers everywhere would exclaim that their stretched out skin and their stretch marks were worth bringing their children into the world, that does not mean that they would not like to do something about the evidence staring at them in the mirror.
A tummy tuck surgery for women is done to reshape and sculpt the abdomen and the waist for a better appearance and improved self-esteem. Even with working out regularly, most women are unable to regain definition in their stomach muscles due to how much they were stretched out during pregnancy. Excess skin and excess fat on the abdomen are loose and unattractive, and they can hang over the waist of pants creating a "muffin top" effect. At Atlanta Plastic Surgery Specialists, Dr. Mark Mitchel Jones is an incredibly skilled plastic surgeon who performs six distinct variations of tummy tuck surgery, depending on the needs and desires of his patients.
The most common reasons women choose to have a tummy tuck include:
Removal of excess abdominal skin following pregnancy
Abdominal fat that is resistant to diet and exercise
Stretched stomach muscles
Desire for a thinner overall appearance
Desire to look younger and more fit
Desire to fit better into clothes
Dr. Jones is a well-respected plastic surgeon who has mastered the art of tummy tuck procedures for women. His expert skill and experience make him the trusted choice for many in the entire Southeast.
If you are interested in learning more about a tummy tuck or you would like to schedule a consultation, please contact Atlanta Plastic Surgery Specialists today.
Posted on behalf of Dr. Mark Mitchell Jones, Atlanta Plastic Surgery Specialists, P.C.
Circle Us on Google+