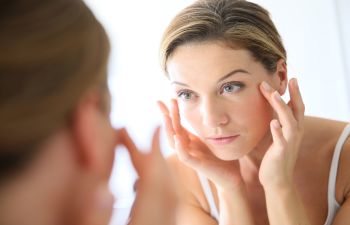 Identified using multiple names such as an acrochordon, soft wart, soft fibroma or fibroma pendulan, a skin tag is a benign out-pouching of skin that is connected to the skin's surface by a tiny stalk.  Though individuals are not born with a skin tag, they often manifest in areas of skin-to-skin friction, including the underarms, neck, upper chest, eyelids and groin. Given the incidence of skin tags in areas of friction, they are more common in individuals that are overweight, though there is also a genetic component associated with their formation.
Because skin tags rarely lead to cancer, and do not pose any notable health risks, they are typically not removed unless they become an annoyance or when their presence becomes a cosmetic concern.
While there are many at-home remedies for skin tag removal, it is always best to contact an established healthcare professional or board certified surgeon for safe and effective skin tag removal, especially when the skin tag is in a visible area. For the most part, skin tag removal is considered non-surgical, and can be accomplished by cutting with a blade, freezing with liquid nitrogen or through electrocautery. Yet, when skin tags are larger in size, a local anesthetic such as Lidocaine may be injected into the treatment area to ensure that a patient remains comfortable.
Expert Skin Tag Removal In Atlanta
Though relatively straightforward, removing a skin tag can result in scarring or infection if not performed by a skilled and experienced physician. That's why individuals throughout the Atlanta area trust the experience and skill of Dr. Mark Mitchell Jones for expert skin tag removal that is quick and painless, requiring no downtime. In fact, patients under the care of Dr. Jones can return to their regular activities the same day as their skin tag removal.
Thus, if a skin tag becomes bothersome or appears unsightly, and you would like to have it removed, Dr. Mark Mitchell Jones welcomes your call at Atlanta Plastic Surgery Specialists, P.C. today.
Posted on behalf of Dr. Mark Mitchell Jones, Atlanta Plastic Surgery Specialists, P.C.
Circle Us on Google+