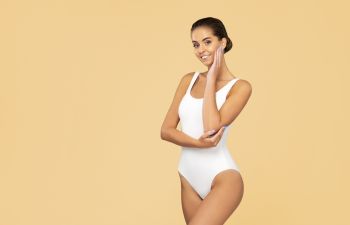 Being pregnant is often a time of trials and tribulations, interspersed with moments of joy. When the baby is born, it will take time to get your body back in shape. For many women, turning to exercise and diet seems like the natural solution.
Unfortunately, some of the bodily changes that take place during pregnancy leave a lingering impression. Fatty deposits, misshapen breasts and stretch marks are just some of the challenges you may face. When a healthy lifestyle has minimal impact on your body shape and appearance, turn to Dr. Mark Jones.
Mommy Makeover
Body contouring takes on an entirely new meaning when it comes to post-pregnancy. In preparation for an expected baby, the body goes through several changes. Weight gain can amount to an added 25-30 pounds. Your breasts will likely get larger and fat is stored in various areas of the body.
You can shift some of the weight with exercise, diet and an overall healthy lifestyle. However, issues such as stretch marks will not respond to your best efforts. If you are unhappy with your body after a pregnancy, the mommy makeover is a combination of contouring procedures that can undo the damage.
Tailored Plastic Surgery
Dr. Jones can use one or more procedures to improve the appearance of your post-pregnancy body. Every parent experiences different challenges after welcoming a new life into the world. Breast augmentation, lift and reduction can restore your bust to a desirable size and shape. A tummy tuck is used to remove excess fat and tighten skin. We may also recommend liposuction that targets the arms, thighs, legs, hips and lower back.
A mommy makeover is not a predefined set of plastic surgery procedures. This is your opportunity to make improvements to the areas that impact most on your confidence. During a consultation with Dr. Jones, patients have the opportunity to discuss and agree on aesthetic goals.
As a caregiver to one or more children, it is understandable if you may not have the time to achieve that ideal body. Reach out to the Atlanta offices of Dr. Mark Jones to book a mommy makeover consultation today.
Posted on behalf of Dr. Mark Mitchell Jones, Atlanta Plastic Surgery Specialists, P.C.