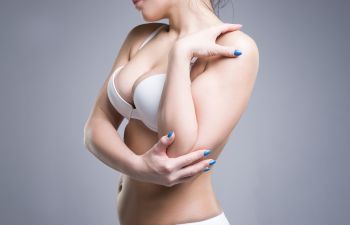 There are two common methods that are used in a breast augmentation: on top of the muscle or behind the muscle. The latter is considered the best option for longer-lasting results. When you choose to have a breast augmentation with the implant placed behind the muscle, it is important to find an experienced and accomplished surgeon.
Due to the more complex nature of a behind-the-muscle breast augmentation, there are various challenges involved in the surgery. If you live in or around Atlanta, the good news is that Dr. Mark Mitchell Jones specializes in this type of surgery. You will benefit from his extensive knowledge of breast augmentation techniques at his Atlanta Plastic Surgery Specialists offices.
Natural Results
A behind-the-muscle breast augmentation doesn't only result in longer-lasting aesthetics. This approach means that breasts look more natural after surgery. When implants are placed above the muscle, better cleavage is achieved but you may find that more people recognize that you have opted for a surgery.
Both methods provide different benefits. However, behind-the-muscle surgery is more suitable for candidates who want natural-looking breasts. Dr. Jones will work with you to ensure that you achieve your personal goals.
Breast Augmentation Consultation
If you have questions about which breast augmentation is right for you, Dr. Jones can provide guidance. Before you commit to a procedure, you will benefit from a comprehensive consultation at the Atlanta Plastic Surgery Specialists offices. This initial session will allow you to gain further understanding of each procedure and surgical approach.
A consultation with Mark Mitchell Jones of Atlanta Plastic Surgery Specialists is designed to give patients clarity and confidence. Whether you have a fair understanding of the procedures involved in a breast augmentation or you are exploring surgery for the first time, we can provide further education.
Call the offices of Mark Mitchell Jones at Atlanta Plastic Surgery Specialists to book your consultation today.
Posted on behalf of Dr. Mark Mitchell Jones, Atlanta Plastic Surgery Specialists, P.C.