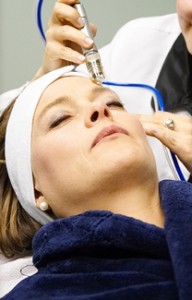 Wrinkles are pesky pieces of evidence that reveal our age – and no one likes them for that reason. As people reach their 30s, the majority of people will develop lines and wrinkles on the face. Most young plastic surgeon patients who are interested in Botox® are shocked at how early their skin starts changing. Because of this early start, most young patients are not interested in undergoing surgery to reduce the appearance of lines and wrinkles, however, they are still looking for a solution.
Botox® injections are the most popular minimally-invasive cosmetic procedure performed each year in the United States. Used among both genders and people of all ages, Botox® stops muscle movement in the injection site and, thus causes a relaxation and disappearance of the skin creases. Botox® is derived from a bacteria called Clostridium Botulinum and is short for "Botulinum Toxin." It began being used in 1920 for people with eye twitches and an imbalance in their eye muscles. It was during these procedures that doctors noticed its efficacy in reducing the appearance of wrinkles around the eyes. This led to the study and development of using Botox® to "fill" wrinkles on the face in order to allow patients to achieve a younger looking appearance.
Dr. Mark Mitchell Jones at Atlanta Plastic Surgery Specialists has been using Botox® Cosmetic since it first appeared on the market. His expertise and experience allow him to achieve natural looking results that result in a refreshed and more youthful appearance. As an experienced and reputable plastic surgeon, Dr. Jones knows exactly where to administer Botox® Cosmetic injections in order to relax the exact muscles that are causing the wrinkles that you do not wish to have.
If you are interested in Botox® Cosmetic injections to help you reclaim your youthful appearance, please contact Atlanta Plastic Surgery Specialists today. We look forward to serving you and helping you put your best face forward.
Posted on behalf of Dr. Mark Mitchell Jones, Atlanta Plastic Surgery Specialists, P.C.
Circle Us on Google+