Lip Augmentation
3rd May 2019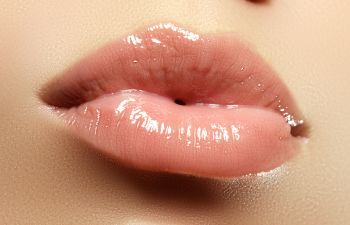 For those in search of a fuller pout, lip augmentation is a cosmetic procedure using injectable fillers and/or fat to add shape, structure and volume to thin or aging lips. Though collagen injections and lip implants were predominantly used for many years, today's lip augmentation procedure uses dermal fillers containing substances similar to that of hyaluronic acid (HA), a substance naturally found in the human body. These options not only last longer, they are considered safer. To learn more about lip augmentation and the specific types of hyaluronic acid fillers on the market, continue reading below.
Though they are injected using the same technique, hyaluronic acid fillers allow for more controlled treatment in regards to shaping and plumping lips. This is mostly due to the texture of the substance, which is gel-like. WebMD explains that these fillers give plastic surgeons control over lip volume by adjusting the amount injected. Without question, this produces a more natural result, as opposed to lips that appear overdone. Moreover, the hyaluronic acid based substance can be injected over the course of a few appointments until the desired look is achieved.
Aside from controlling the pace of treatment, hyaluronic acid fillers make it easy to dissolve bumps created in the lips. In turn, they result in less bruising and swelling when compared to other fillers. As an added benefit, there are very few cases in which an allergic reaction occurs, as hyaluronic acid is a familiar substance to the body. Consider the following hyaluronic acid fillers used today:
Restylane (including Restylane-L and Restylane Silk)
Juvederm Ultra, Juvederm Ultra Plus
Belotero Balance
HylaForm
Elevess
Pervelle Silk
Captique
Expert Lip Enhancement in Atlanta
For expert lip enhancement in Atlanta, many turn to lip augmentation specialist Dr. Mark Mitchell Jones of Atlanta Plastic Surgery Specialists, P.C. As a double board certified plastic surgeon, Dr. Jones utilizes various techniques including fat transfer and dermal injectables to shape and improve lip contour and volume. As such, Dr. Jones is known for producing elegant results that last for 6-9 months.
To speak with Dr. Jones concerning lip augmentation and enhancement, call Atlanta Plastic Surgery Specialists today.