Information for Out of Town Patients
If you are visiting Dr. Jones from out of town, we want to help make your trip to Atlanta enjoyable and relaxing. Following is information that you might find helpful when planning your visit to Atlanta.
Hotels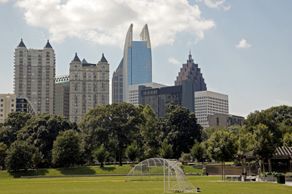 Piedmont Park, the most expansive and popular of Atlanta's city parks, facing downtown Atlanta
Following is information for hotels located near our plastic surgery center in Atlanta.
Piedmont Hospital Guest Center

The Guest Center is located within the hospital complex with standard hotel rooms and low rates. Room amenities include a microwave, refrigerator, and TV. Laundry facilities are on the premises. These convenient accommodations are limited to one room per surgery patient. Each room has a queen size bed and a sleeper sofa and can accommodate three people. Reservations are recommended at least a week ahead.
1984 Peachtree Road | Atlanta, GA 30309
(404) 605-3800
1365 Peachtree St NE | Atlanta, GA 30309
(404) 745-1000
75 14th St NE | Atlanta, GA 30309
(404) 881-9898
Please request Atlanta Plastic Surgery Specialists rate.
505 Pharr Road NE| Atlanta, GA 30305
(404) 262-7880
Rate Code: LATLSP
Restaurants
2166 Peachtree Rd NW | Atlanta, GA 30309
(404) 351-7117
1874 Peachtree Rd NW | Atlanta, GA 30309
(404) 355-3897
215 Peachtree Street NW| Atlanta, GA 30309
(404) 688-7625
1812 Peachtree St NW | Atlanta, GA 30309
(404) 872-2942
1901 Peachtree Rd NE | Atlanta, GA 30309
(404) 355-2004
2277 Peachtree Rd NE | Atlanta, GA 30309
(404) 355-0321
2285 Peachtree Rd NE # 102 | Atlanta, GA 30309
(404) 351-0870
SafeTrans Atlanta
http://www.safetransatlanta.com/transportation-about-us
Our company proudly offers professional, competent, courteous door-to-door service. Our drivers are certified CPR, First Aid, patient sensitivity, and defense driving experts.
Cooper Global Chauffeured Services
Cooper-Global offers clients a reliable and consistent airport service 24 hours a day, 7 days a week to any of the 1400 airports that we serve world-wide. Our professional chauffeurs are happy to help you in any way, whether it's taking you to the airport or picking you up. When your flight arrives, we will personally meet and greet you at the designated meet and greet area at no additional charge. We escort you to the vehicle so you can start to relax and enjoy a safe and carefree ride to your destination.
ATL Car Service
http://www.atlcarservice.com/go.php?x=services
Airport transportation
When it comes to going to or from Atlanta Hartsfield International airport using a dependable, stress-free service, we have experienced, dependable drivers and dispatchers. All of our limos and sedans are licensed. (You can book online and save 10%)
Driving Directions:
Head East on N Terminal Parkway 0.5 miles
Merge onto I-85 N via the ramp to I-20/I-75 N/Atlanta 11.7 miles

A few buildings and landmarks that you'll see before reaching the exit: you'll pass the exit signs for I-20 and want to stay straight on 75 N/85 N. Then you'll see the Equitable building in Atlanta, Mariott Marquee on your left. You'll want to stay in the second to right lane, and as you're approaching the exit to Emory University, move over an additional lane without getting off at an exit prior to 251A.

Take exit 251A toward 17th St NE 0.5 miles

This will be a little ramp, you'll stop at the traffic

Turn right onto 17th St NE 0.2

There will be another traffic light with the restaurant Nau to the right and a Thai Pepper in front of the building. Contiue to the next traffic light, and stay in the left two lanes to make a

Turn left onto US-19 N/Peachtree Street NE 0.2 miles

Stay straight through the first traffic light, stay right – do not go left to Buford/400. At the traffic light, the road

Slight left onto US-19 N/Peachtree St NE 1.1 miles

You'll pass a Chevron station called Uptown Station on your right, Peachtree Pointe on your right, pass through several traffic lights, eventually coming to a Chick-Fil-A on your right, then a CVS. You will want to be in the far right lane. The building immediately after the CVS is the 2001 Professional Building. Do not turn right onto Brighton Road after CVS. There is a turning lane without arrows in front of the building. You'll make a right where the 2001 Professional Building sign is next to the revolving door, in the middle of the building. Park on any of the three parking levels. Take the elevator to the 6th floor. We are located in the suite just off of the elevator in 630. We look forward to seeing you for your appointment!