Atlanta Mole Removal – Before and After Photos
Mole Removal Patient 1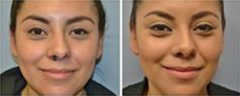 Mole Removal Patient 2

Mole Removal Patient 3

Read the details about safe, effective mole removal cosmetic procedures tailored to your needs. Thank you for viewing the patient photos of double board certified Plastic Surgeon Dr. Jones of Atlanta Plastic Surgery Specialists.
What sets us apart from other offices, and dermatology practices, for mole removal procedures is the technique and procedure to remove the entire mole including the root, and closure of the incision to give you the most minimal scarring possible.
More Before and After Photos are available in our office
*Disclaimer: These Are Actual Results For Patients Of Dr. Mark Mitchell Jones. Plastic & Cosmetic Surgery Results Can Vary Between Patients.