Choosing the Right Plastic Surgeon
What can I do as a patient to ensure a successful surgery?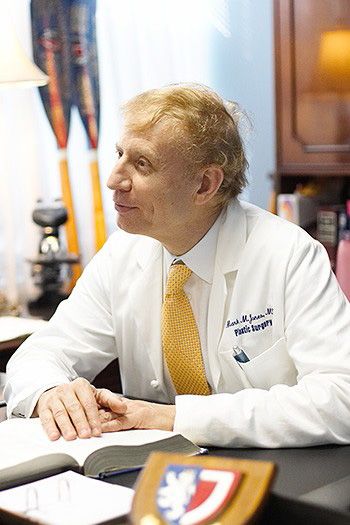 The single most important factor in the success of your plastic surgery is the surgeon you select. I advise you to be discerning. For example, do not be swayed by a fancy office only. The latest facilities and technology may have little to do with the skills and the judgment the surgeon uses when he executes your surgery on the operating table. Plastic surgery is very manual, requiring dexterity and precision.
More important, you should know that the field of cosmetic surgery is rife with inflated promotional claims and doctors not qualified to do the surgeries they perform. Unfortunately or fortunately, depending on your point of view, plastic surgery has attracted doctors from unrelated specialties who are able to acquire minimum level of training in cosmetic medicine by attending courses for brief periods. Consequently, some of these professionals may end up competing for patients mainly on the basis of aggressive marketing and advertising claims that tell consumers little about their medical qualifications. Buyer must be aware, we all have heard nightmares about plastic surgery gone wrong.
Finally, when you discuss your surgery with your chosen plastic surgeon, please be honest about your desires, concerns, and any health issues. For the surgery outcome to be successful, it is important that your doctor knows about all the relevant issues pertaining to the surgery from your perspective.

How do I choose my surgeon?

Since the surgeon's skill is the most critical success factor in your surgery, it is important that you know about the qualifications, training, and the experience of your surgeon. It is your responsibility to watch for unqualified physicians performing plastic surgery procedures. My advice is to look for physicians both board certified in plastic surgery and trained in plastic surgery institutions.
On one hand, physicians can be board certified in a multitude of disciplines other than plastic surgery, yet call themselves plastic surgeons. Some of the other disciplines include dermatology, ophthalmology, obstetrics/gynecology, otolaryngology (ear, nose, and throat—or ENT), general surgery, even 'cosmetic' surgery. A physician board certified in one of these other disciplines can legally perform plastic surgery procedures even though he is not board certified in it, and may have little or no training in the procedures.
On the other hand, training in plastic surgery is not a legal requirement to perform plastic surgery procedures. Indeed, anyone with a medical degree can claim to be qualified to perform cosmetic procedures. For your safety, you are better off trusting your body with a plastic surgeon that is both board certified and trained in plastic surgery at a quality training program in plastic surgery for at least 2-3 full years. My surgery training took ten full years. It included two years of general surgery of the body, four years of facial plastic surgery, two years of general plastic surgery, and two years of plastic surgery fellowships.
Why all that training, you may ask. Simply because I believe that practice makes perfect and that there are no shortcuts to mastering something this delicate. I believe that to have become a master in this art I had to pay my dues through a lot of hard work over a long period of time. I spent ten years training under the guidance of the best physicians in this field before starting my own practice. Interestingly enough, there is a chapter in Malcolm Gladwell's 2008 bestseller Outliers: The Story of Success called 'The 10,000 Hour Rule.' It explains that if you want to be good at something—really world-class good—in just about any field, there seems to be a prerequisite of 10,000 hours of practice. To put that time frame into perspective, 10,000 hours breaks down to dedicating three solid hours a day, almost every day, for ten years honing your craft. I have done more than that in just my formal residency training, and have been perfecting my skills ever since. I know I have seen just about every type of case out there, and am fully confident to assure you that you are in trusted hands if you choose me as your surgeon.
Naturally, surgeons with many years of experience will be able to provide insights and wisdom that the lesser trained surgeons simply do not have. Nothing can substitute for years of performing these operations. The most important thing for you is to you feel comfortable and know that you are in capable hands.

How can I tell if the plastic surgeon is qualified to perform my surgery?

A simple test to distinguish a qualified plastic surgeon is to check if they are willing to perform your procedure in an accredited hospital. This is because hospitals allow surgeons to perform only those procedures they are qualified to do. The hospital has done your research/credentialing for you. An extra expense—or any other reason—should not deter the surgeon from giving you the option to have the operation done in a hospital setting. If the surgeon exclusively operates in his private facility, it may indicate that he does not have the proper credentials to perform that particular procedure.

Where did you receive your training?

My training is quite exceptional in both quality and quantity. I have been extensively trained at Emory University, Stanford University, the Johns Hopkins Hospital and University, and Oxford University in England. I was also privileged to train as a Fulbright Scholar under the great innovators of plastic surgery in Paris, France. These institutions are leaders in plastic surgery and medicine in the world. In addition to medical training, I received a medical business degree from University of Canterbury in New Zealand. It has helped me organize and lead a successful practice where we use only the safest and the most effective procedures and equipment, maintain a healthy business environment, and adhere to all accepted business standards.

How do you ensure the safety for your patients?

Safety has always been the primary concern of my practice. My staff and I hold fast to our practice safety standards and refuse to undertake risky or unproven procedures. Based on my experience—and not only from the safety perspective—being connected to a first class hospital system is in the best interest of both the patients and myself. One, I operate mostly in the first rate hospital facilities, and we follow all the safety procedures of the hospital. Two, I know I have access to the most experienced and qualified nurses and anesthesiologists available in Atlanta.

Why did you choose to become a plastic surgeon?

Plastic surgery is a challenging discipline and the demands of it have always fascinated me. I have wanted to become a plastic surgeon since I was ten years old. I felt I was talented in the many areas that make up an exceptional surgeon. The best plastic surgeons are multi-talented—in the sciences, in medicine, in visual arts, in precise manual dexterity, and in understanding and in applying technology. I have refined all these talents, plus gained the experience of thirty plus years both abroad and in the United States. I am most pleased to have followed my instinct as a ten year old, because today I can say that I absolutely love what I do and know I am good at it. Plastic surgery is more than a job for me.

What can I expect from my initial consultation?

When I meet you for your initial consultation, I will take the time to carefully listen to you and what you would like to achieve with your surgery. Then, I will analyze your case carefully from the scientific perspective, while simultaneously considering your preferences, health, and lifestyle. Finally, I draw upon my considerable experience to formulate a solution that is customized just for you. Given all my experience, I feel I can get a good sense of what is possible and how to approach the case during our meeting. I will do my best to give you a realistic view of the expected outcome, and can promise to do my utmost to accomplish a successful outcome. Please come with all your questions, and we will discuss those together. I certainly hope you will feel comfortable with us. The majority of our patients come from doctor referrals and word-of-mouth from previous patients. The feedback we have been receiving from our patients has been extraordinary¬, and in fact, the biggest regret my patients often have is that "why didn't I do this earlier!"

How long should I count on the various cosmetic surgery effects to last?

The staying power of the most popular procedures varies from patient to patient. While I cannot give you any guarantees, let me give averages for the different procedures so you have a better idea of what you can expect, on the average.
Botox lasts for about four months. The first time treatment is usually shorter-lived, but with regular injections, the muscle contraction that makes wrinkles is reduced, and a cumulative benefit will occur. In other words, the second injection lasts longer than the first one, and the third still longer. As Botox disables the small facial muscles from contracting and thus wrinkling your face, you may "learn" to scrunch up your forehead less, and thus prevent natural wrinkling.
Restylane stays on for about six months. The filler is made from a substance that is found naturally in your tissues, and your body's own enzymes break the injected filler over time, typically taking about six months. Other fillers may be shorter or longer.
Facelift typically lasts seven to ten years, but in some cases and using certain Gentian techniques, the results can last for ten to fifteen years. The staying power depends on the patients age, the quality and elasticity of the skin, and her lifestyle. A woman in her forties and fifties is likely to have longest lasting effects.
Eyelid lift can effectively take years of your face, for sagging eyelids are one of the early and noticeable signs of aging. Fortunately, eyelid lift results can last for a long time, ten to fifteen years.
Forehead lift lasts about three to five years, but you can retain the effect longer with regular Botox injections.
How long the impact of a liposuction will last you is difficult to predict. It is up to you to commit to maintaining or reducing your new weight. The positive fact is that those fat cells that were removed are gone permanently. The reality of the remaining fat cells is that they can grow larger, effecting weight gain if you do not monitor and control your diet.
Rhinoplasty is permanent. A nose, whether operated or not, will undergo changes with age, but the differences are insignificant.
Breast implants usually last seven to ten years. However, with my scarless technique, with a few exceptions, none of my patients have required revisions or implant exchanges. This gives my patients close-to-permanent breasts that hold better than a natural set.

Any final comments?

I understand that you are making a most important decision about your health and appearance, and both my staff and I are dedicated to helping you make an informed decision about your surgery. A decision with which you will be satisfied. Please know that I really appreciate the privilege of being considered as your plastic surgeon, and I look forward to hearing from you soon.