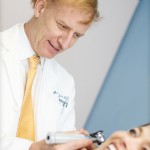 Plastic surgery is chosen for very personal reasons. Many people have spent years feeling self-conscious about a certain area of their appearance, and making the decision to undergo elective surgery is not a small decision. There are very few areas that are more personal than the face.
Your face is how people recognize you, and it is the first thing that they think of when you come to mind. Therefore, if you are unhappy with a certain facial feature it can affect how you feel and how others perceive you.
Other than the nose, nothing affects a person's profile like the chin. In fact, it is the relationship between the nose and chin that causes a balance or an imbalance in the profile. A chin implant adds proportion to the chin so that it will balance out with the other facial features. As people age, they often notice a recession in their chin. They lose definition in the chin, and this weak chin makes the neck appear fleshy. A small or weak chin can also accentuate the size of the nose, making it seem larger than it actually is because there is no balance between the features. Chin enlargement through chin implant surgery brings the facial features into harmony in order to enhance the entire face.
Dr. Mark Mitchell Jones of Atlanta Plastic Surgery Specialists has been serving patients all over the world through excellent facial plastic surgery, including chin implant surgery. Dr. Jones is an expert at understanding the relationships between different aspects of the face, external tissue features, and the facial bone structures. With this expertise, he is able to use his artistry and experience as a renowned plastic surgeon to achieve the most desired results.
If you are interested in chin implant surgery, please contact Atlanta Plastic Surgery Specialists to schedule a thorough consultation with Dr. Jones. Dr. Jones will discuss your desired results, taking the time to understand exactly what you want to achieve through chin implant surgery, and he will determine an individualized surgical strategy that is specifically tailored to your needs. Atlanta Plastic Surgery Specialists looks forward to providing you with elegant and skillful results.
Posted on behalf of Dr. Mark Mitchell Jones, Atlanta Plastic Surgery Specialists, P.C.
Circle Us on Google+