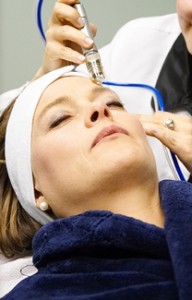 Microdermabrasion is a non-surgical procedure used to physically exfoliate the outermost layer of dead skin cells from the face. This is a very popular procedure for men and women who desire help with skin tone, texture, fine lines, wrinkles, acne, and acne scarring. The effects of microdermabrasion are immediate, leaving the skin instantly smoother and glowing. At Atlanta Plastic Surgery Specialists, we are proud to offer this non-surgical procedure for patients who desire a beauty treatment that will enhance their appearance without having to go under the knife. Dr. Mark Mitchell Jones and his caring team from Atlanta Plastic Surgery Specialists use microdermabrasion to help his patients achieve a more even skin tone and a refreshed, youthful appearance.
Microdermabrasion is a mechanical exfoliation technique used to remove dead or damaged skin cells from the face. During this procedure, the skin's own rejuvenation process begins by stimulating the elastic tissues beneath the surface of the skin to bring forth a healthier and firmer appearance. Microdermabrasion is done using a hand held device that sprays tiny crystals across the face, mixing gentle abrasion with suction to remove the dead, outer layer of skin. It polishes the skin and stimulates the production of collagen. This quick "lunch hour procedure" can help refresh the face, and routine microdermabrasion appointments can reduce or remove unwanted pigmentation.
At Atlanta Plastic Surgery Specialists, we offer a variety of different forms of non-surgical procedures that can be used to enhance the appearance of the face. If you would like more information or to schedule an appointment, please contact our office today. We look forward to helping you look and feel your best.
Posted on behalf of Dr. Mark Mitchell Jones, Atlanta Plastic Surgery Specialists, P.C.
Circle Us on Google+