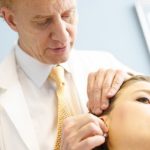 As people approach the age of 40, they often begin to notice significant changes in their appearance. While 40 is not considered to be "old age," gravity has started catching up with people and taking its toll. Many people find that they look older than they feel. Their face has begun to sag, they look tired, and the youthfulness of their appearance has diminished. Dr. Mark Mitchell Jones of Atlanta Plastic Surgery Specialists is pleased to offer his own, unique approach to facelift called the Natural Uplift Facelift. Few surgeons have such an extensive background of training and education as Dr. Mark Mitchell Jones. Dr. Jones has studied under experts at Emory, Oxford, Johns Hopkins, and Stanford to become a plastic surgeon with far-reaching skills and a gentle spirit. He is the creator of the Natural Uplift Facelift, and he is pleased to offer this advanced facelift procedure to patients throughout the world.
With the Natural Uplift Facelift, Dr. Jones methodically addressed all the shortcomings of other facelift procedures in order to successfully create the safest and most natural outcome. This innovative facelift technique includes less visible scarring, greater flexibility, optimized safety, more comfortable aftercare, and a more natural appearance.
Facelift procedures focus on lifting and removing sagging, drooping, and loose skin from the face. It is the loss of elasticity that generally causes the sagging process. Excess weight gain and then significant weight loss can also cause sagging skin of the face because the skin was stretched with excess weight and cannot contract back. Any loss of elasticity of the facial skin can cause a person to look older than they truly are, tired, and even take on a grumpy appearance. With a Natural Uplift Facelift, people can regain an appearance that accurately reflects how they feel: youthful and energetic.
If you would like to get more information about the Natural Uplift Facelift or to schedule a private consultation with Dr. Jones, please contact Atlanta Plastic Surgery Specialists today. Dr. Mark Mitchell Jones is proud to be the creator and expert provider of the NU Facelift technique to help patients regain confidence and pride in their appearance.
Posted on behalf of Dr. Mark Mitchell Jones, Atlanta Plastic Surgery Specialists, P.C.
Circle Us on Google+