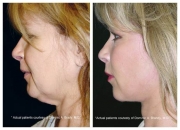 Many people find that once they hit their upper thirties to mid-forties that things are looking a little different in the mirror. We are all faced with getting older, and the face is one of the first places on the body that will show signs of aging. While there are some who wish to age naturally, there are many others who wish to fight against aging and reverse its appearance. At Atlanta Plastic Surgery Specialists, Dr. Mark Mitchell Jones is pleased to offer solutions for those wanting to bring back the youthful vibrancy to their face.
One of his signature facial plastic techniques is offering his own unique approach to facelift called the Natural Uplift or NU Facelift.
The most unique feature of the Natural Uplift Facelift is that it provides patients with extremely natural results. Where there are many examples of people with "plastic looking" faces (think Kenny Rogers, Joan Rivers, and Burt Reynolds), the Natural Uplift Facelift has variations to the facelift procedure that provide amazing results. The Natural Uplift Facelift is an innovative technique that brings a more youthful face and cheeks to patients who have begun having sagging skin in these areas and around the neck. Astonishingly, this technique also results in less swelling and a much quicker recovery time for patients, making it a very desirable surgical procedure.
Dr. Mark Mitchell Jones and his team at Atlanta Plastic Surgery Specialists are proud to be the exclusive provider of the Natural Uplift Facelift in Atlanta, Georgia. If you would like more information about this innovative facelift procedure and how it can benefit your appearance, please contact our Atlanta Facelift practice today. We are proud to partner with our patients in order to achieve the most beautiful results.
Posted on behalf of Dr. Mark Mitchell Jones, Atlanta Plastic Surgery Specialists, P.C.
Circle Us on Google+