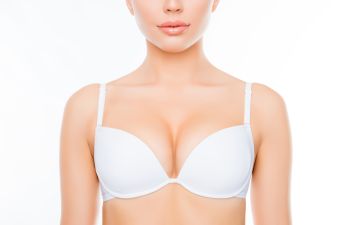 For patients having undergone breast augmentation surgery with unsatisfactory results, or when a problem has occurred following their surgery, Dr. Mark Mitchell Jones is a trusted plastic surgeon with unsurpassed skill and expertise in corrective breast surgery. When it comes to corrective surgery of any kind, choosing a qualified surgeon is paramount, as the potential for an undesirable outcome is high. This is mostly due to issues with scarring, previous incisions and/or techniques, skin elasticity and the risk for infection.
Some of the most common reasons for breast revision surgery are discussed below.
Implant Rippling
Many patients opt for corrective breast surgery when noticeable rippling appears through the skin, particularly on the sides of the breasts. In a majority of cases, switching to silicone breast implants, repositioning the implants or adding volume will prevent this from occurring.
Implant Rupture/Deflation
Whether due to trauma or wear and tear, breast implants can rupture or deflate over time. Those with saline implants will know quickly, as the breast will appear differently on the outside. Yet, those with silicone breast implants usually do not know right away, and might require an x-ray to confirm that the implant has ruptured.
Capsular Contracture
Following a breast augmentation procedure, the human body naturally creates a barrier of scar tissue around the implant. This "capsule" helps stabilize the implant. Yet, with some patients, the capsule of tissue becomes hard and changes the shape of the breast. What's more, it may begin to contract, causing pain. The solution to capsular contracture is to remove the implants. For some, antibiotics can help the body recover as they contemplate another breast augmentation surgery.
Breast Drooping (Ptosis)
As individuals age, those with large breasts (whether surgically placed or not) often notice that their breasts begin to droop (Ptosis). This can be corrected by combining a breast lift with a breast augmentation.
Lifestyle Changes/Preferences
Given the effects of aging, along with lifestyle changes and preferences, individuals that previously received saline implants may switch silicone implants. Generally, silicone is a more natural-looking implant.
Your Trusted Source For Corrective Breast Surgery In Atlanta
With extensive knowledge and expertise in both the aesthetic and functional components of the breasts, Dr. Mark Mitchell Jones is a trusted source for corrective breast surgery in Atlanta. What's more, Dr. Jones's gentle and pleasing bedside manner is a comfort to those requiring additional surgery.
To discuss your options for surgery, contact Atlanta Plastic Surgery Specialists, P.C. to schedule an appointment with Dr. Jones.
Posted on behalf of Dr. Mark Mitchell Jones, Atlanta Plastic Surgery Specialists, P.C.
Circle Us on Google+