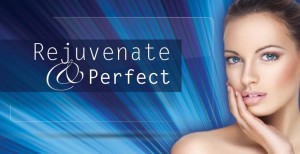 Have you heard the expression, "Forty is the new 30?" Well, it is true: woman and men aged 40 and above are now looking younger and younger, thanks in part to facial aesthetics such as Botox®, Restylane® and Juvèderm®. With these skin rejuvenating treatments, women and men are looking younger and younger, without having to go under the knife.
Botox® Cosmetic injections are a highly effective skin rejuvenation treatment that can be used to soften or eliminate the appearance of facial wrinkles. They are injected under the skin into areas surrounding the eyes and the forehead to smooth crow's feet, frown and worry lines. Made from a purified protein called botulinum toxin, BOTOX® injections block nerve impulses, thus weakening the muscles that are responsible for the undesired wrinkles. This can give the face a fresh, youthful look. While each individual is different and results will vary, Botox® typically last for four to six months.
Restylane® is another type of skin rejuvenation treatment that can be used to reverse the signs of aging. It is a natural dermal filler made from a water-soluble substance that is already present in your skin as hyaluronic acid. Restylane® naturally restores volume to the skin by filling facial wrinkles and folds. Though not permanent, the Restylane® injections' wrinkle-reducing effects are instantly noticeable typically lasting about six to twelve months.
Juvéderm® is another skin rejuvenating treatment that can be used to fill in folds and wrinkles on the face in a non-surgical treatment that is relatively painless. This smooth, water-soluble substance is already present in your skin as hyaluronic acid.
Juvéderm® is injected into the problem area, causing wrinkles and facial folds to be "filled", adding volume to areas that have lost mass through the process of aging. It can also be used as in lip enhancement procedures. Though the wrinkle-filling effects of Juvéderm® injections will not last forever, the results can be enjoyed right away and with no downtime to recover. Of course, results vary from one patient to the next, but they typically last for six to twelve months and can be repeated as desired.
If you desire a more vibrant, refreshed and youthful appearance but do not want to spend the time and money involved in plastic surgery, you may be a good candidate for one of the facial aesthetic treatments mentioned above. Talk to a qualified, board-certified plastic surgeon in your local area to see which type of non-surgical skin rejuvenation treatment or combination of treatments is right for you.
Posted on behalf of Dr. Mark Mitchell Jones, Atlanta Plastic Surgery Specialists, P.C.
Circle Us on Google+