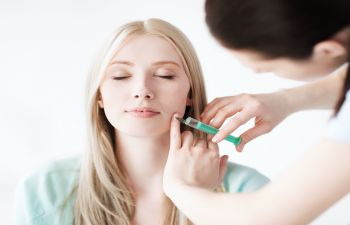 With countless positive results in the smoothing of wrinkles, accentuating lips and enhancing one's natural facial features, Restylane Injections are a growing favorite among those seeking a minimally-invasive anti-aging dermal filler. What's more is that Restylane treatments can last up to nine months or longer, depending on the age of the individual and the depth of the wrinkles being treated.
Given that Restylane provides benefits for a wide range of ages and features, Restylane Refyne and Restylane Defyne provide more flexibility in customizing treatments for wrinkles and folds. Both are soft-tissue based dermal fillers that contain hyaluronic acid (HA). Yet, they utilize an XpresHAn technology to provide treatment with a more natural appeal. In other words, when Refyne or Defyne are injected to soften smile or laugh lines (nasolabial folds), the gel-like substance of the injection allows for movement underneath the skin to continue. Individuals appear refreshed and revitalized, while maintaining their normal expressions and characteristics. While both Refyne and Defyne are used to treat moderate to severe facial wrinkles, Defyne provides added support for deeper wrinkles. Additionally, results from Refyne and Defyne last longer than traditional Restylane injections, with noticeable benefits up to 12 months or longer.
To better understand how Restylane injections work, doctors first determine one or more injection sites for treatment, as well as the appropriate amount of Restylane needed. The filler is then injected beneath the surface of the skin, where the hyaluronic acid adheres to the skin through water that is in the acid. The hyaluronic acid continues to retain water, producing and preserving volume beneath the skin. Your Plastic Surgery Guide reports that results using Restylane are fully evident within one week, and continue to produce results that cannot be achieved with treatments such as chemical peels or microdermabrasion.
Dr. Mark Mitchell Jones and the compassionate team at Atlanta Plastic Surgery Specialists maintain a reputation for producing elegant results with injectable fillers such as Restylane, including the soft-tissue fillers, Refyne and Defyne. As a double board certified plastic surgeon and highly esteemed reconstructive surgeon, Dr. Jones is a trusted source when it comes to anti-aging solutions that are safe and effective.
To speak with Dr. Jones in a private consultation, call Atlanta Plastic Surgery Specialists today.
Posted on behalf of Dr. Mark Mitchell Jones, Atlanta Plastic Surgery Specialists, P.C.
Circle Us on Google+