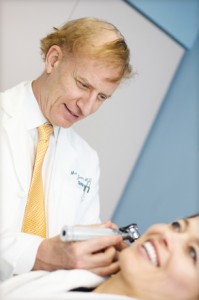 If you are a woman past the age of forty, you have probably thought a little bit about the aging process. Even if you still feel young at heart, the truth is that there are certain changes that take place as a natural part of the aging process. These small but noticeable changes threaten to reveal our true age to the world. Changes in your face, neck and Décolletage are the usual telltale signs of aging. These can include fine lines, wrinkles, excess fat and skin, and sun damage.
So what can be done about this? Certainly, you are allowed to right to age gracefully and to feel good about the way you look, at any age. These changes may not bother you at all. If this is the case, then good for you.
However, if these changes are bothering you and causing you to feel less confident about your outward appearance, there are several options that can be explored.
There are several cosmetic procedures that can be used to treat fine lines and wrinkles on the face. These range from Botox® Cosmetic injections, dermal fillers and other non-surgical treatments to facelift surgery. Your plastic surgeon can help determine the best solution for your facial lines and wrinkles based on your age, their severity and your personal goals.
There are also several different procedures that can be used to treat excess skin and fat in the neck and chin area. These treatments range from laser skin tightening treatments to liposuction and mini facelifts. Again, your plastic surgeon can recommend the most appropriate treatment to meet your specific needs.
The Décolletage (upper part of a woman's torso that is comprised of the neck, shoulders, back and chest) is a common area for sun damage since it is commonly exposed to the sun. If you have sun damage on your Décolletage, it can cause you to look older than your actual appearance. There are a variety of treatments than can be used to treat sun damage on the Décolletage including laser skin rejuvenation treatments, microdermabrasion, skin bleaching and more. Once you have treated this area for sun damage, it important to wear a high quality sunscreen on the area at all times, to prevent damage from reoccurring.
If you would like to get more information on the telltale signs of aging and the available treatments, talk to a board-certified plastic surgeon in your local area today.
Posted on behalf of Dr. Mark Mitchell Jones, Atlanta Plastic Surgery Specialists, P.C.
Circle Us on Google+