Easy-In-Easy-Out Office Surgery
In-Office Facelift and Eyelid Surgery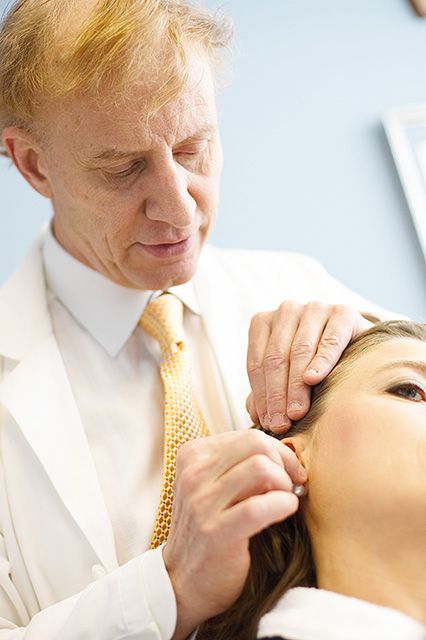 You can be confident you
are in trusted hands.
While many feel more comfortable to have their surgery performed in the hospital under general anesthesia (put to sleep), Dr. Jones is well skilled and experienced to perform his NU facelift or eyelid surgeries in his office operating room. This option gives the patient the best of both worlds, the breakthrough NU facelift is a safe setting with a very experienced doctor, yet without any of the worries or potential complications that come from being put under anesthesia. From the patient perspective, it is an easy-in-easy-out way of accomplishing the surgery quicker and with less cost (no hospital or anesthesia fees).
The following are the key issues to consider:
Experience. With over 22 years of surgical experience at Piedmont Hospital under his belt, Dr. Jones performed over 100 office facelifts in 2010 alone. He is experienced to handle the procedure in the comfort of his own operating area. His superior education and residency training at the world famous Stanford and Johns Hopkins Hospitals combined with his years of on-the-job training is hard to find.
**** NOTE: If you have any doubts about your surgeon's experience or skills, you should always require the surgery to be done in a hospital setting. Only appropriate (for that specific surgery) board certified doctors are allowed to operate in a hospital where the safety procedures and support are mandated at the highest level.
Safe and Convenient. Facial office surgery with Dr. Jones is as safe as a dental procedure, but less painful. There is no need for IVs or surgical drains after the procedure. The drugs for anxiety and safety are in the form of pills instead of injections. The patient does not need to wait around after the surgery for clearing from the hospital. No hospitalization is necessary, but is easily available if needed.
Minimal Scarring. Dr. Jones performs his facelifts with a short scar, allowing the patient to wear her hair up and not see a scar on the neck. A male patient will not have a distortion of beard into the ear canal.
Affordable. Performing the surgery in the office, you will avoid the hospital and anesthesia fees that often amount to one third of the charges.
Flexible. Dr. Jones can include additional options into the customized facelift package. These include facial liposculpting, facial fat injection, cheek lifting, neck tightening, corner mouth lift, or just doing either or both the upper and lower eyelids. Also, Botox and other fillers are available.
Convenient Location. Dr. Jones's office is located just north of downtown Atlanta in Buckhead, with easy access to the expressways. The office is in the Piedmont Professional Building, across the street from the hospital (connected with an underground tunnel) and with its own parking garage.
Quick. Dr. Jones can perform most facial procedures in 1-3 hours. After starting on the anti-anxiety drugs at home, the patient is ready to start surgery when she walks in and ready to go home once the surgery is completed. Someone else is required to drive.
Patient Testimonial #1 - Atlanta Eyelid Surgery
"After thinking about having an eyelid surgery for a year, I decided that at 42 years, the surgery was the most effective preventative measure I could take against an aging face. I chose Dr. Jones because I wanted someone with precision and experience. I also wanted a most hassle-free and easy surgery and had the surgery done at Dr. Jones's office under local anesthesia. It was truly and "easy-in easy-out' experience, and I could not be more pleased about the results. I look younger, but not different in a negative way. The clock has been turned back. In addition to the droopy eyelids gone, the skin around my eyes is less wrinkled. The emerging crow's feet are almost gone and the skin just feels and looks younger. All I can say I wish I had done this earlier, why did I hesitate?" Annabella
View the full text for the testimonial here.
Patient Testimonial #2 - Atlanta Eyelid Surgery
"I am in my thirties and had recently started noticing my eyelids beginning to droop more and more. I decided to do some research on Upper Eyelid Surgery. I had heard of Dr. Jones through some friends, so I scheduled a consultation with him first. After going through the process of the consultation, I felt very comfortable about having the procedure done. It was an office surgery so that added convenience and affordability for me. I couldn't be more pleased with the result. My eyes stand out so much more now and my eyelids feel lighter. The little scarring is what surprised me the most though. My friends and family say I look great! In hindsight I would definitely choose to have this procedure done with Dr. Jones all over again." Katie