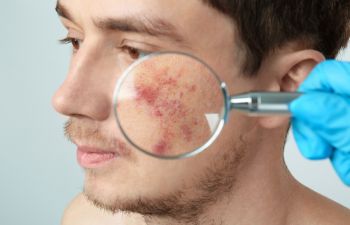 Acne scarring can include indents in the skin and discolorations on the surface of the skin. You may have scars on your face reminding you of your teenage years that now interfere with your self-esteem. Dr. Mark Mitchell Jones offers expert cosmetic surgery treatments for scars of all types while decreasing the discernability of scarring with scar excision or injectable medications.
Contact the Atlanta Plastic Surgery clinic to schedule a consultation for your skin if you have damage caused by the effects of acne. We can address different options including Scar Revision Surgery and Z-Plasty. In this day and age, the effects and damage from acne conditions are highly correctable.
Scar Revision Surgery
Scar revision surgery will attempt to minimize a scar so that it is less conspicuous and blends in with the surrounding skin tone and texture. Scars, the unavoidable results of injury or acne, create poor healing that contributes to obvious, unsightly or even disfiguring qualities. Scars may be noticeable due to their size, shape or location. They can appear to be raised or depressed and may differ in color or texture from the surrounding healthy tissue. Revision surgery involves minimally invasive procedures with advanced techniques in wound closure.
Z-Plasty
Z-Plasty is a procedure that is used to improve the cosmetic appearance of scars. With this technique, it is possible to redirect a scar into better alignment with a natural skin fold or the lines of least skin tension. Contracted scars may be lengthened with this technique, causing the scare to be less observable.
Call us at Atlanta Plastic Surgery Specialists today if you are interested in diminishing scarring with cosmetic scar revision surgery. Dr. Mark Mitchell Jones will address any concerns and go over all treatment options for scar healing during your scheduled appointment.
Posted on behalf of Dr. Mark Mitchell Jones, Atlanta Plastic Surgery Specialists, P.C.