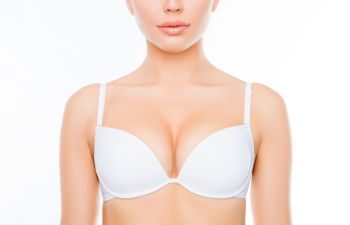 Many women fear the prominent scarring associated with breast enlargement or augmentation surgery. Yet, with meticulous skill and technique, Dr. Mark Jones at Atlanta Plastic Surgery has perfected the innovative Invisible Scar Technique, providing a seamless surgical experience and the feminine, natural result that women love.
Through a puncture-like, short incision placed at the junction of the areola and vertical axis of the breast, Dr. Jones' IST technique allows for a minimal transverse dissection of the breast tissues. The tiny incision is nearly impossible to detect after healing. While previous breast surgeries involve cutting into the muscle and fibrous fascia tissue to position implants behind the muscle, the IST technique provides a method of sliding the implant through a small, temporary opening. To begin, Dr. Jones utilizes a temporary technique to relax muscle fibers so that they can be safely and gently spread apart in a parallel fashion. This requires utmost precision, as muscle attachments must remain in order for the breast to be properly placed and supported.
With the implant positioned behind the muscle, Dr. Jones places the patient upright, where the muscle can be stretched while the implant is shaped and contoured into a desirable and more symmetrical position. While the Invisible Scar Technique (IST) allows for a less invasive surgery, not to mention less bleeding, it protects against drooping of the breasts. In other words, breasts remain lifted, as they are supported on all sides by intact muscles and fascia.
Though women continue to enjoy the results from traditional breast enlargement procedures, many are left with heavy scarring and tell-tale signs of surgery. Thus, women throughout Atlanta and the United States continue to seek the revolutionary Invisible Scar Technique (IST) developed by Dr. Mark Mitchell Jones. What's more is that there is no need to wear heavily supportive bras or bikini tops, as breasts maintain a beautiful, well-supported contour.
To learn more about Dr. Jones' leading edge breast augmentation technique, or to schedule an appointment, contact Atlanta Plastic Surgery Specialists today.
Posted on behalf of Dr. Mark Mitchell Jones, Atlanta Plastic Surgery Specialists, P.C.
Circle Us on Google+