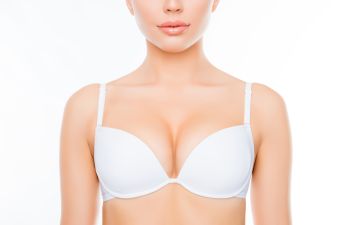 You often hear of women desiring to have larger breasts. Small cup size is often a source of emotional distress for women who would rather have the curves of larger breasts. Less discussed is the plight of women who have naturally large breasts. While women with a smaller cup size may look on with a bit of envy, women with large breasts are not always happy with such ample endowment. Luckily, women with large breasts have surgical options.
The Downside of Large Breasts
Many women with large, heavy breasts experience upper and/or lower back pain. Some also have pain in the neck and shoulders. Poor posture and strain on muscles and ligaments caused by repetitive motions can also be a problem. For the woman with very large breasts, the extra weight can cause pain that may be chronic, lasting for months or years.
Excess weight on the chest places strain on the back muscles. Good posture is difficult to maintain since there is not sufficient muscle support. Some women are so self-conscious about their large breasts they hunch over in an attempt to lessen their prominence. This only exacerbates the posture problem.
Large breasts can limit the activities in which a woman can participate. Running and exercising with vigor are not easy for women with large breasts. In addition to pain, these women also contend with bra straps digging into their skin. There is a procedure that can provide relief.
Breast Reduction Surgery
Women with large breasts have options for relief from discomfort. Customized bras and sports bras can help by supporting the breasts and help distribute the weight better. Ibuprofen or aspirin can be taken for occasional back pain. Exercise and physical therapy may be used to help improve posture. When these options are not enough, breast reduction surgery may be recommended.
This surgery is for those who suffer from chronic back pain caused by large breasts, and is a permanent solution to the problem. The majority of women with a DD size or larger who choose breast reduction surgery no longer experience pain in their back, shoulders or neck.
Consult with Dr. Jones to decide if you are a candidate for breast reduction surgery if your large breasts are causing you back pain. Call today to schedule your appointment.
Posted on behalf of Dr. Mark Mitchell Jones, Atlanta Plastic Surgery Specialists, P.C.