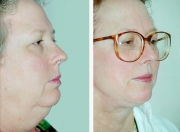 When you look in the mirror, do you see two chins staring back at you? Are the sags and folds in your neck giving away your real age? In this age of video chats, Facebook and online dating, your facial appearance is more important than ever. In many cases, a headshot is the first impression people have of you.
If you have excess fat or skin on your neck, it can age you and significantly detract from your appearance and your confidence. If this is the case, maybe it is time to get a plastic surgery consultation from an experienced, board-certified plastic surgeon.
A neck lift is a cosmetic surgery procedure that can be used to tighten the skin in the neck area and, if necessary, remove excess skin. The result is a more flattering look and youthful appearance. A neck lift procedure can also be combined with neck liposuction in cases where excess fat underneath the chin is giving the appearance of a "double chin." Neck liposuction can be effective when an individual is not able to get rid of excess fat underneath the chin, even with proper diet and exercise.
Neck lift and neck liposuction procedures can be performed as outpatient surgery using either a local or general anesthetic. With today's advanced techniques, it is possible to perform these procedures with minimal scarring.
If age or genetic predisposition is causing the skin around your neck to sag or is causing you to have a double chin, set up a consultation with a board-certified plastic surgeon today. After a thorough evaluation, an experienced plastic surgeon can recommend the most appropriate procedure or combination of procedures to help you reach your goals.
Posted on behalf of Dr. Mark Mitchell Jones, Atlanta Plastic Surgery Specialists, P.C.
Circle Us on Google+